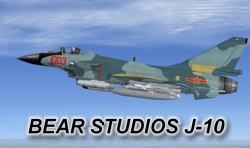 Bear Studios Chengdu J-10 "Vigorous Dragon" for FSX/2004
The Chengdu J-10 is a multirole fighter aircraft designed and produced by the People's Republic of China's Chengdu Aircraft Industry Corporation. Known as "Vigorous Dragon", the J-10 is the most important aircraft designed in the past 20 years in the Chinese Aviation Industry. The J-10, which entered service in 2005, is a 3rd+ Generation multi-role combat aircraft capable of all-weather day/night operation. The J-10 from Bear Studios is an accurate and in-depth simulation product for Microsoft Flight Simulator 2004 & FSX (as well as ESP/Prepar3D). In this product, Bear Studios simulates complex systems and operating procedures from a real combat aircraft.
In-depth simulation based on officially published papers related to Engine, Hydraulic Machinery, Avionics, Radar, Flight Controls, and Navigation.
Highly efficient and detailed external modeling. Delivery and Jettison sequence recreated.
Weapons and storages individually modeled with weight. When selecting weapons/storage released from the aircraft, the SMS (Storage Management System) will detect the status and make dynamic changes.
Custom keystrokes mapped to gaming devices for HOTAS setups.
Highly detailed Virtual cockpit (VC) features:

High resolution textures with sharp gauge text.
Emissive Avionics, MFD, and HUD.
Flood light and console light in 2 colors, MFD and gauge back light for night flight. Interior lights controlled individually by light control switches, simulating electrical bus behavior.
Switchable cockpit positions both in FS2004 and FSX (2-seats only).
Cockpits in both Chinese and English languages. Switchable via automatic tool.

JL-10A Multi-role Fire Control Radar and Optical Sensor System simulation.
All weapons and weapon storages have delivery animation sequences and procedures, controlled by the SMS system.
Built-in aerial refueling using AI aircraft for Tanker.
Fully animated canopy and ejection sequences.
Procedural animation system including:


Missile launches (4 types, with smoke tail and flame attached to animated missiles shape).
JDAM/LGB/Bomb release (4 types, with animated bomb shapes).
Rocket launches, with smoke tail and flame attached to rockets shapes.
Jettison (emergency or selective).
Boarding ladder, air intake blockage covers, visibility controlled by conditional statuses.
Full pilot articulation with autonomous movement and gesturing.
Build-in FCS controlled flight control surfaces.
Speed brake and hydraulics power simulation.
Real functional Drag Chute, animated and rotated by conditional status, deployed with real limitations related to real aircraft.
Automatically trailing and leading edge flaps. Controlled by related conditional status.
Tip vapor effects.
Afterburner and engine flame effect, controlled by conditional status.
Gsh-23-2 Gun system and effect simulation.

Cockpit sound system for warning with advisor voice (FSX only).
Built-in exterior lights for landing, taxing, dim-able navigation and beacon lights.
60 pages of Operational Flight Manual.
Simulated combat capability:

Radar Guided Missile / Radar Homing Missile simulation
Laser Guided Bomb simulation
GPS guided Bomb simulation
FLIR LST and LTD simulation (no IR imagery).
Stand-alone ECM/ESM system with advisor display.

10 models with different typical payload configurations referenced from real aircraft. Includes 10 liveries covering typical J-10 units.
Advanced graphics /back lighting techniques. Highly accurate, custom designed avionic displays (MFD, HUD, DTU, CNI displays).
Custom Auto Throttle for Cruise, Approach and Takeoff Status, continually adjusted by the Flight Control System.
Custom 10-mode autopilot which mimics the actual J-10 FCS:

Barometric Altitude Hold (BALT).
Radar Altitude Hold (RALT).
Flight Path Angle Hold (FPAH)
Heading Select (HSEL).
Custom in-flight waypoint reprogramming via build-in GPS system.
Coupled Waypoint (CPL WPT).
Coupled Sequence (CPL SEQ).
Coupled TACAN (Ground-based TACAN navigation).
Coupled Beacon (Ground-based Beacon navigation).
GCI Coupled Vector for Air-Air Intercepting (GCI CMD).
Low Level Terrain Follow Flight (More Limitations, reference from OFM).

Functional Hydraulics, Failure, Electrical, Fuel, Emergency Power System (EPU),
Engine Working Limitation and adjust system (ECU) and more.
The E-Commerce enabled download executable is about
185 MB
in size. The purchase screen will appear when you run the executable. The servers do support Resume, however we do not recommend certain download managers because they can sometimes corrupt large downloads.
Version 1.5 - Via direct download (185 MB)

Click Here To Download!
Support for this product can be found via the Flight1 support site at www.simforums.com:
http://www.simforums.com/forums/forum_topics.asp?FID=17&title=bear-studios
System Requirements / FS Version Compatibility


MICROSOFT FLIGHT SIMULATOR X (ESP/Prepar 3D) / FLIGHT SIMULATOR 2004
Windows - Windows XP, Vista, or Win 7
Processor - 2.8 GHz
Video Card - 256 MB
USD - $ 34.95

Product Gallery

Click image. Use arrows or mouse wheel to scroll.