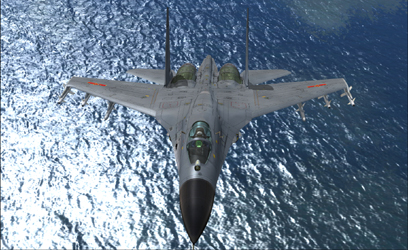 Bear Studios Shenyang J-11B
The Shenyang J-11B with NATO reporting name: Flanker B+ is a single-seat, twin-engine jet fighter based on the Soviet-designed Sukhoi Su-27 (NATO reporting name: Flanker) air superiority and Multi-role fighter produced by the Shenyang Aircraft Corporation (SAC). The People's Liberation Army Air Force (PLAAF) of the People's Republic of China (PRC) is the sole operator of the aircraft.
J-11B is a 3.5 Generation multi-role combat aircraft capable of all-weather day/night operation. In PLAAF, J-11 takes similar position as F-15C Eagle and F-15E Strike Eagle in USAF.
The J-11B Flanker B+ from Bear Studios is an accurate and in-depth simulation product for Microsoft Flight Simulator 2004 & FSX (ESP/Prepar 3D). In this product, we make complex systems and operating procedures simulating reference from a real combat aircraft.
Note: For flight simulator versions differences and limitations, not all animations and/or features may function during solo or multiplayer flight.
Complete Feature Included
In depth simulation designed for aircraft system based on official published papers related to Engine, Hydraulic Machinery, Avionics, Radar, Flight Control and Navigation system on J-11.
Highly efficient and detailed external modeling for J-11. Delivery and Jettison sequence recreating from real aircraft.
Weapons and storages individually modeled with weight. When selected weapons/storage released from aircraft, SMS (Storage Management System) will detect status and take dynamic changes.
Custom keystroke mapped to gaming devices for HOTAS setups.
Highly detailed Virtual cockpit (VC) features: High resolution textures with sharp gauge text. Emissive Avionics, MFD and HUD. Flood light and Console light in 2 colors, MFD and Gauge Back light for Night Flight, Interior lights controlled by individually light control switches, simulating electrical bus behavior. Switch-able cockpit positions both in FS2004 and FSX (2-seats only)
KLJ-11/N-001VE Multi-role Fire Control Radar and Electrical Optical Sensor (EOS/IRST/LDT) system simulation. This system has 5 main modes, for searching detecting and calculation of fire control solution to designated AI target and/or selected fixed ground target, Radar with 6 difference scan sub modes related to proper weapons or working functions: CRM/ACM Mode for air target, GMTI Mode for ground moving target, FTT Mode for ground fixed target, NAV Aid (Beacon) Mode, AIFF for ACM/CRM combined Modes, EOS/FLIR/ IRST system simulation. Stand-alone LST/LDT or coupled working with FCR Radar, Integrated Fire Control System simulation, Ground Control Intercepting System (GCI) simulation.
All weapons and storages have delivery animate sequence and procedure, controlled by SMS system. Weapons and Stores include:
PL-8 Air-Air Missile
SD-10 AMRAAM
R-73 Air-Air Missile
R-27 Middle Range Air-Air Missile
R-77 AMRAAM
KH-31P/YJ-91 HARM
X-29T/L AGM
KAB-500 Laser Guided/TV Guided Bomb
FAB-500 free fall bomb
S-13 130mm Unguided Rocket
J-11B can carry China build Air-Air missiles and all type of air-ground guided/unguided weapons, Upgraded J-11A/SU-27SK/UBK in J-11B develop program can carry Russian missiles and unguided air-ground weapons. This different reflects current status from China PLAAF`s flanker fleet.
Fully animated canopy and ejection sequences.
Procedural animation system including: Missile launches (7 types, with smoke tail and flame attached to animated missiles shape). KAB/FAB Bomb release (4 types, with animated bomb delivery). Rocket launches, with smokes tail and flame attached to rockets shapes Jettison (emergency or selective).
Boarding ladder, air intake blockage covers, visible controlled by conditional status
Full pilot articulation with autonomous movement and gesturing.
Build-in FCS controlled flight control surfaces.
Speed brake and hydraulics power simulation
Real functional Drag Chute, animated and rotated by conditional status, deploy with real limitation related to real aircraft.
Automatically trailing and leading edge flaps. Controlled by related conditional status
Tip vapor effects. Afterburner and engine flame Effect, controlled by conditional status
Gsh-30-1 Gun system and effect simulation.
Cockpit sound system for warning and advisor voice (FSX only).
Built-in exterior lights for landing, taxing, Dim-able navigation and beacon lights.
77 pages of Operational Flight Manual
Simulated combat capability:
Radar Guided Missile / Radar Homing Missile simulation
Laser Guided Bomb simulation
GPS guided AGM simulation
EOS/IRST/FLIR LST and LTD simulation (no IR imagery).
Stand-alone ECM/ESM system with advisor display.
8 models with different typical payload configurations reference from real J-11B aircrafts. Additional J-11A /Su-27/UBK models for carry Russian upgraded weapons and systems.
Advanced graphics / back lighting techniques. Highly accurate, custom designed avionic displays (MFD, HUD, DTU, CNI displays)
Custom Auto Throttle for Cruise, Approach and Takeoff Status, continually adjust by Flight Control System.
Custom 10-mode autopilot which mimics the actual J-11 FCS:
Barometric Altitude Hold (BALT).
Radar Altitude Hold (RALT).
Flight Path Angle Hold (FPAH)
Heading Select (HSEL).
Custom in-flight waypoint reprogramming via build-in GPS system.
Coupled Waypoint (CPL WPT).
Coupled Sequence (CPL SEQ).
Coupled TACAN (Ground-based TACAN navigation)
Coupled Beacon (Ground-based Beacon navigation).
GCI Coupled Vector for Air-Air Intercepting (GCI CMD)
Manually select mach number and flight altitude for auto pilot and radar intercept system via build in control panels.
Functional Hydraulics, Failure, Electrical, Fuel, Auxiliary Power System (APU), Engine Working Limitation and adjust system (ECU)… and more.
The E-Commerce enabled download executable is about
228 MB
in size. The purchase screen will appear when you run the executable. The servers do support Resume, however we do not recommend certain download managers because they can sometimes corrupt large downloads.
Version 1.2 - Via direct download (192 MB)

Click Here To Download!
Download the optional paintkit here if you want to create your own custom repaints:
Paintkit for J-11B
System Requirements / FS Compatibility
MICROSOFT FLIGHT SIMULATOR X (ESP/Prepar 3D)
Windows - Windows XP or Win7/Vista
Processor - 2.8 GHz
Video Card - 256 Mb
Memory - 2 Gb RAM
Hard Drive - 350 Mb
USD - $ 29.95

Product Gallery

Click image. Use arrows or mouse wheel to scroll.