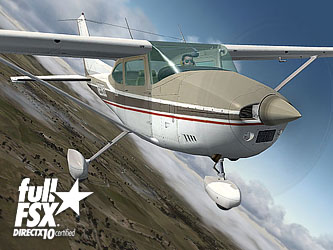 Cessna Skylane 182Q for FSX by Carenado
(Carenado is a Flight1.com E-Commerce Partner)
ONLY FOR FSX. C182Q SKYLANE II. DEVELOPED ONLY FOR FSX. SUPPORTS SP2, ACCELERATION PACK and DX10
External dynamic shadows, internal dynamic shadows on VC
Normal mapping, specular mapping and bloom lights
Polygon optimized model
1978 model Standard and Long Range Version
IFR certification
Four-places
Tricycle landing gear
8 variations with 4 different models (without Pant Wheels- with Pant Wheels-Without pant wheel in nose gear Long Range Version)
Many details and realistic 4 textures kit
Interactive virtual cockpit
Full moving parts: Ailerons, elevators, rudders, flaps and trim tab
Animated Cowl Flaps
Rolling Wheels
Opening doors
Opening pilot's window
Animated Sun Visor
Adjustable seats
Navigation lights, beacons, landing lights
Custom C182Q's Sounds
Transparent windows
3D modeled full pilot's animation and cockpit area
Real Propeller
Many details as: pitot pressure chamber, antennas, chocks, pitot tube cover, Control lock, Baggage area
Custom panel and gauges (Includes NAVOMATIC 300A Autopilot)
Built-in Zoom Gauges and digital readout features
Realistic light effects on gauges
Yoke
Toggle yoke at VC
Panel Manager
Extra Keypad
Normal Checklist
Emergency Checklist
Performance information
Realistic performance based on real documents and experimented C182Q's pilot observations...and our own experience on real flight and MFS
Similar behavior compared with the actual airplane
Real weight and balance
PDF document with information
For product support, please visit the developer's website at
http://www.carenado.com
This product is packaged in the Flight1.com E-commerce wrapper and may be downloaded for immediate use. After you download the file, when you run the executable, the purchase screen will appear.

Download the 182Q here! (30 MB)

USD - $ 19.95

Product Gallery

Click image. Use arrows or mouse wheel to scroll.