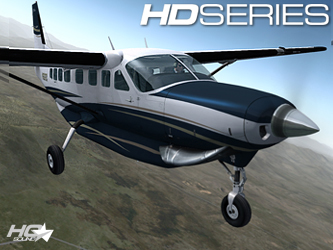 C208B Grand Caravan FSX / P3D HD Series
ONLY FOR FSX / P3D
C208B Grand Caravan HD Series.
Hi Definition quality textures (2048 x 2048)
Five different paint schemes plus a blank texture.
Customizable panel for controlling seat configuration, windows transparency, 3D Knobs, Cargo Pod, Doors opening and many eye candies (wheel chokes, pitot cover, tail stand and sights prop)
Original HQ digital stereo sounds recorded directly from a real PT6A (Pratt & Whitney Canada) engine
Custom Bendix/King Weather Radar and original GNS 430
Pop up C208B Grand Caravan manual with normal & emergency Checklist
Tested by real C208B pilots
Realistic night lights effect on virtual cockpit
FSX features: external dynamic shadows, internal dynamic shadows on VC, volumetric normal mapping, specular mapping and bloom lights
Polygon optimized model
Friendly FPS
Autopilot installed
Includes: Interactive virtual cockpit
Full moving parts: Ailerons, elevators, rudders, flaps, rolling wheels and trim tab
Animated sections such as: propeller, doors, windows, sun visors, copilot seat and pilot
Lights: Navigation lights, landing and taxi lights
3D modeled pilot, cockpit area and passenger cabin area
This model doesn't have a 2D panel
Realistic light effects on gauges
Nightlight effects on panel
Separate switches for instruments lights and cabin light
Toggle yoke
Real behavior compared to the real airplane
Real weight and balance
PDF documents: Normal and Emergency Checklist, GNS430 User Guide, Weather Radar Manual, C208B Reference, AVSS manual and VC diagram.
By CARENADO
The E-Commerce enabled download executable is about
98 MB
in size. The purchase screen will appear when you run the executable. The servers do support Resume, however we do not recommend certain download managers because they can sometimes corrupt large downloads.
Via direct download (98 MB)

Download Today!
Support for this product can be found via the developer's website at:
http://www.carenado.com
FS Compatibility / System Requirements

Microsoft Flight Simulator X or
Microsoft Flight Simulator X Steam Edition or
Lockheed Martin's Prepar3D v2, v3, v4

USD -
$34.95

Product Gallery

Click image. Use arrows or mouse wheel to scroll.