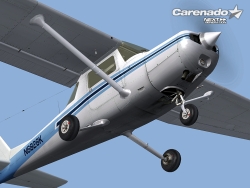 Carenado Cessna 152 II for FS2004
ONLY FOR FS2004
Four different paints with maximum details and realistic textures
Interactive virtual cockpit
Full moving parts: Ailerons, elevators, rudders, flaps, and rolling wheels
Animated sections such as: doors, pilot's window, glove compartment, sun visor and fresh air control
FS2004 lights: Navigation lights, beacons, landing lights
Full dynamic effects (shines over the body and panel, night lights)
Dynamic shine and reflections
Transparent windows
3D modeled pilot and cockpit area
Real Propeller
Pitot pressure chamber, antennas, chocks, pitot tube cover
Realistic textures and original paint design
Custom panel and gauges
Realistic light effects on gauges
Nightlight effects on panel
Yoke
Full checklist and reference text about the Flight Dynamics
Realistic performance based on documents and experimented pilot observations...and our own experience on real flight and MFS
Similar behavior compared to the real airplane
Real weight and balance
PDF document with information
1 persons on board
This product is packaged in the Flight1.com E-commerce wrapper and may be downloaded for immediate use. After you download the file, when you run the executable, the purchase screen will appear.

Download the C152 II 2004 here! (29 MB)
Support for this product can be found via the developer's website at:
http://www.carenado.com


USD -
$26.95

Product Gallery

Click image. Use arrows or mouse wheel to scroll.