Liquid Refreshment For Flight Simulator 2004
Notice:
Please read our FS2004 (FS9)
Limited Support Notice
before purchasing this product.
Flight One Software, in partnership with Peter Wilding, brings you another add-on to further enhance your virtual flight experiences in Flight Simulator 2004. FS Water was developed to provide users with a new set of soothing water/sky textures that will help brighten up any virtual flight.
Compare before and after at the FS Water Showcase Page
!
The new texture sets has been optimized for use with Flight Simulator 2004 and have little impact on performance, while provide new realistic color and tones to both inland and ocean water areas within the sim.
FS Water includes more dynamic wave action effects with added wave height, a more pleasing turquoise water texture for those who like to island hop in the tropics. Kelp-like water surfaces of varying degrees in regions such as Seattle, Europe, and other parts of the world. The package also includes improved reflections that are even better then the award winning environment textures by Peter Wilding. The package also contains a new set of sunrise and sunset textures to improve realistic sky color at those times of day.
Quench your FS thirst and discover this great water texture package today. Click on the link below to download! When saved to your system, run the EXE and a purchase screen will appear.
Important: For proper effects, make sure the following sliders in your scenery settings are set as follows: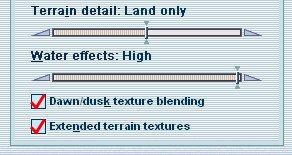 The E-Commerce enabled download executable is about 16 MB in size.

Download E-Commerce Enabled EXE (16MB)
System Requirements / FS Version Compatibility

Windows XP Recommended - Although FS Water may operate under Windows 98 or Me, Flight One can't make any guarantees that you will not encounter problems when using the software with Windows 98 or Me. Flight1 highly recommends Windows XP as it is a true 32-bit operating system, and does not suffer from certain memory limitations of Windows 98 or Me.