FS2Crew: iFly 737NG Voice / Button Control Special Bundle
CELEBRATE THE LAUNCH OF THE SPECIAL FSX AND FS9 BUNDLE PACKAGE!
VOICE "AND" BUTTON CONTROL FOR YOUR FSX AND FS9 IFLY 737NG
IN ONE SPECIAL BUNDLE PACKAGE!!!
Designed in close consultation with a real-world 737 Captain, this new Edition of FS2Crew brings your iFly 737NG to life by adding an interactive flight, cabin and ground crew to the aircraft!
With the iFLY's powerful SDK, the integration between FS2Crew and the iFly 737 is seamless and clean.
Take your iFly 737 to the next level with FS2Crew. It will change the way you fly!
INCLUDES BOTH THE VOICE AND BUTTON CONTROL VERSIONS IN ONE SINGLE PACKAGE!!!
Vista/Win 7 users: The Voice Control version requires that your Windows Speech Recognizer be set to English - US.
Real-World B737NG SOPs tested and designed by an active B737 Captain
New 'visual' interface system that makes using the software very easy and intuitive
Direct and seamless integration owing to the iFly's very powerful SDK (no keypresses or simulated mouse clicks used for FO interaction)
Normal Checklists
B737 specific Crew flows (Captain and FO, PF and PM)
FA interaction
Start Crew/Pushback interaction
Cabin announcements
Captain PAs
External ground/air starts (cross bleed engine starts)
Bleeds off takeoffs and landings
Departure profiles (NADP 1 and NADP 2)
Various approach profiles and Missed Approaches
Turn-arounds/Thru-Flights
De-Icing at the gate or pad
Circuits/Touch and Go's
High Altitude airport procedures
External Air/GPU handling (Engine Start and Pushback/ Gate Arrival)
Free version of FS Video Marshaller (a 14 EUR value). The Video Marshaller can even interface with the iFly 737NG (Ground Air/Power)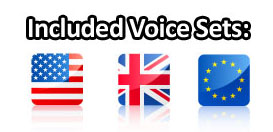 FS2Crew iFly 737NG Button Control Edition Video Preview
Includes A Free Copy of FS Video Marshaller

The E-Commerce enabled download executable is about
510 MB
in size. The purchase screen will appear when you run the executable. The servers do support Resume, however we do not recommend certain download managers because they can sometimes corrupt large downloads.
Versions: Voice 1.2 / Button 1.6 (Last Updated July 8th, 2011) - Via direct download (510 MB)

Click Here To Download!
System Requirements / FS Version Compatibility


IFLY 737NG (FSX or FS9 versions) from Flight1 Software. Aircraft not included.
Microsoft Flight Simulator X and/or FS9/FS2004.
Vista/Win 7 users: Voice Control version requires that your Windows Speech Recognizer be set to English - US.