Ideal Flight Special Edition for FSX - Augmented Version
About Ideal Flight
Take the burden out of setting up a flight in your Flight Simulator. The simple press of a button creates a completely new flight each time with weather, flight plan, and briefing.
That's just a part of Ideal Flight; it works with any addon, and its comprehensive feature superset makes Ideal Flight an essential add-on for Flight Simulator.
Ideal Flight is a whole new adventure.
Do more flying, see more airports, feel the environment come alive.
Flight generator finds airports for your flight time and knows where you can fly to
Push-button create and launch fully featured flights with kneeboard briefing
Flights are monitored, assessed, debriefed, and added to a records database
In-flight menu of special functions include: Go to Approach and Pause at TOD
Automatic aircraft camera views and panels database
Start other applications
Advanced weather with seamless interpolated air currents
Kneeboard Flight Briefing
Precise ETA and Fuel
Leading Auto Flight Planner with Superior Plans
Advanced Global Weather Simulation
FSX Automated
No Impact on Screen Frame Rates
Augmented Program Enhancements
NOTE: This version requires that you have already purchased the regular version of Ideal Flight 10, which is located here.
Advanced AIRAC Nav-Data support, intelligently handles differences between simulator and add-in AIRAC Nav-Data.
Simulator and AIRAC data compared to produce Airport and Nav-Data Subsets for maximum compatibility.
Extended route types include routes between published SID/STAR transitions and published approach and departure waypoints.
Data Bias - e.g. frequencies taken from simulator or AIRAC values.
Set and forget FMC export file system, automatically sends plans to popular FMCs like PMDGs and MJC Q400 Dash 8.
Enhanced sorting features in Airport data filtered lists.
Departure and Arrival maps added to the briefing, show increased detail for each end of the plan.
VATSIM pre-file web page data injection (set-up for per profile), with compatible route data uploaded.
Ai Buddy flies your route, along with you, VFR or IFR, and has a range of behaviour modification controls.
Wake disturbance from moving objects and engine thrust, including helicopter wake and lift.
Turbulent conditions created by extended flaps and gear, with veering from airframe distortions at close to max airspeeds.
In-flight menu enhanced with weather controls and other features.
Optional caption-less, borderless, main FS window, when in maximized window mode.
Running reports on Exceptions and more than thirty other simulation and system values saved into csv files.
Many more enhancements, such as extra penalties e.g. Taxi Speed, and profile options e.g. Committed Flights.
Create dll.xml, exe.xml, and fsx.cfg from components, attributable to aircraft selected.
FMS co-route file formats exported by Ideal Flight 10 >augmented, showing some examples of aircraft supported:
FS9 .PLN - FS2004
FSX .PLN - FSX .XML
PMDG .rte v1 - J4100
PMDG .rte v2/3 - 737, 777
PMDG .rt2 v1 - 747
PMDG .WX v1 - 777 weather
iFly .FLTPLAN v1 - 737
QW .RTE v1 - RJ100
Aerosoft Airbus X Extended .flp - AXE
Level-D .rte v1 - 767
Majestic .fpr vQ400 - Dash 8
VATSIM Prefile
Carousel IV-AC INS .AWC WP - FSL Concorde-X, Waypoints data cards
Carousel IV-AC INS .ADC DME - FSL Concorde-X, DME Station data cards
Newest Features - Released September 2018!
Improved performance
Briefing: New information added to the briefing includes altitude graphs.
Saved flights: New dual save flight slots, second slot receives prior save.
Profile Glyph: New pilot icon. Recolour stock image or drop/open custom jpg, png and bmp.
Aircraft Page Glyph: New, drop/open a screenshot for the Aircraft image on the page.
Adjustable clear text throughout. Replaces remaining retro-fonts.
Ai traffic: Enable/disable early starters - new setting thins out starting traffic.
Weather Themes: New, enhances the use of simulator User Defined Weather settings - see help.
New Minimize to Taskbar when flights are launched by IF, see Settings.
Pro and >augmented versions: New, exports show typical paths when viewing file types.
Pro and augmented versions: Default character for the .csv files will now be TAB (09).
Pro and >augmented versions: New, now shows AIRAC issue found in folder selecting AIRAC versions.
P3D versions: Package order error checking; handles some path inconsistencies in xml files.
Added finger pointer to remaining icons and buttons.
QA added Closing IF during flight build and other helpful additions throughout.
Gear down, engine cut after advances, restores - fixed.
Briefing, Aircraft Situation: Sometimes shows old parking location - fixed.
Destination dropdown "Alt Ft" shows meters: Changed to feet - fixed.
Change of profile: Searches in old search location - fixed.
Pages changes sometimes allow glimpses of the backgrounds - fixed.
Interface repaint fault causing slowdown and artefacts on some systems - fixed.
Pro and >augmented versions: Switch between AIRAC/Sim frequencies - fixed.
P3D versions: Malformed quotes stops the flight loading for some a/c names - fixed.
Read Before Purchase - Important Activation Information
This product requires activation with a product registration code. To activate, you will use your Flight1 Product Certfificate code. It will look like
XD32432-AABBCCDD
. This code is presented to you in several places after your purchase.
1. In the purchase screen right after your order is approved.
2. Your Email receipt after your purchase.
3. The Proof_of_Purchase.htm file that will be in the C:\Codelegend folder after purchase.
4. You can have your code emailed to your via the Flight1 Customer Service pages.
You are purchasing the base, standard version. This is the version you must purchase first (if you are looking for the Augmented version you add the Augmented version after you purchase this version).
You will add your registration code in the
RED BOX
below. If you later purchase the Augmented version, you will add that to the
BLUE BOX
below.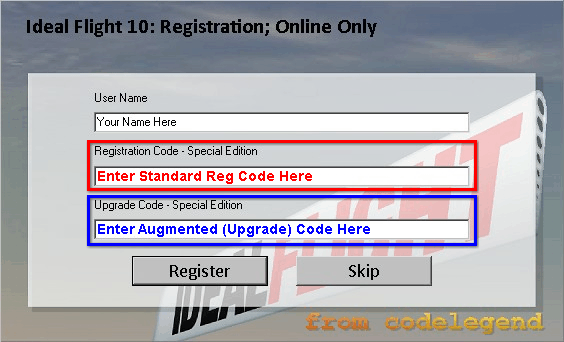 IMPORTANT - Make sure you read the Activation Information above before purchasing.
The E-Commerce enabled download executable is about
3MB
in size. The purchase screen will appear when you run the executable.
This version requires that you have already purchased the
standard version of Ideal Flight 10 Special Edition from Flight1 (do not purchase this if you purchased Ideal Flight from another source and it does not say "Special Edition" in the title)
, which is
located here
. The Augmented puchase only supplies the upgrade code, not the product itself.
If you purchased a previous version of Ideal Flight by DVD or download and it is not the "Special Edition", and you want the Augmented version, you can purchase that Augmented upgrade
here
.

Click Here To Download!
System Requirements / FS Version Compatibility

MICROSOFT FLIGHT SIMULATOR X with SP2 or Acceleration
Windows 7, Vista or XP
Internet activation required
Processor - 2 GHz dual core or better
Memory - 2 Gb RAM
Video Card - 256 Mb
Hard Drive - 30 Mb free