iFly Jets - The 737NG for Prepar3D
The iFly Jets: The 737NG is a super sophisticated and complete 737NG addon for Lockheed Martin's Prepar3D. High accuracy simulation of the cockpit and systems, along with features such as ground support and push back, make this a premier expansion for P3D. The product has been tested by real NG pilots to help maintain the accuracy required for this simulation.
This product offers quite an extensive fleet covering the NG range. This includes the 737NG 600, 700, 700ER, 800, and 900, 900ER, plus the BBJ, BBJ2, and BBJ3. There are several variations among this fleet that you can customize via the configuration manager, including jet engine types, and wingtips.
Dozens of features make up this product.
FMS:
Winds aloft forecast entries.
Conditional waypoints for SIDS/STARS/Approaches.
Fly-by and Fly-over waypoints for SIDS/STARS/Approaches.
Accurate Cost Index calculations for LRC/ECON speeds
Horizontal and vertical navigation.
User defined and conditional waypoints.
Sid/star and navdata custom database.
ETA and Fuel prediction.
All pages and menus are implemented.
Color display.
Maintenance pages.
Custom CDU Font
Autopilot:
Realistic Autopilot Flight Director System with Autothrottle System.
Autothrottle (A/T) Engaged Mode:
N1 - MCP SPD
GA - THR HLD
Retard - ARM
FMC SPD
Roll Mode:
HDG SEL - LNAV
VOR/LOC
Pitch Mode
TO/GA - G/S
V/S - FLARE
MCP SPD - VNAV SPD
ALT/ACQ - VNAV PTH
ALT HOLD - VNAV ALT
Leg Types:
Track to Fix
Direct to Fix
Arc to Fix
Course to Fix
Radius to Fix
Heading
With left and right Flight Director.
Cross-bar or single cue flight director.
Two individual flight control computers (FCCs).
Fully simulated AFDS Status Annunciation.
Pitch/Roll CWS with a CMD Engage Switch Selected.
Activation of mouse wheel for easier MCP windows settings.
Exterior Model:
737-600/700/700ER/800/900/900ER/BBJ/BBJ2/BBJ3
3DS Max Model
FSX Specific Materials (bump and specular).
Realistic control surfaces.
Working elevator power.
Realistic flight spoilers and ground spoilers.
Working autoslat.
Nozzle valve animation.
Working APU doors.
Entry & cargo doors with corresponding cockpit light.
High quality livery textures.
Flex wing.
Virtual Cockpit:
Gauges fully functional and clickable. Every switch, knob, lever is modeled in 3d and animated.
Animated windows, Wipers(two speeds) and more.
Superb instrument lightning at night.
Modeled circuit breaker panel.
Systems:
Fully simulated Inertial Reference System.
Terrain Radar
Display type (PFD/ND or EFIS).
VSD system.
NAV1/2 receiver with working AUTO/MAN mode.
Realistic Ground proximity Warning System.
Cabin pressurization gauge & logic fully implemented.
Flap load relief protection and autoslats logic.
New failures.
Aural alert.
Simulation of Left and Right EFIS.
Full TCAS logic (with traffic display on EHSI).
2D Panel supports both standard and widescreen monitors.
Hundreds of programable key assignments
You have the ability to operate both captain and first officers ND's in different modes together while in 2D widescreen and in the virtual cockpit .
Weather Radar (Active Sky Next Required)
Predictive Winshear (Active Sky Next Required)
Miscellaneous:
Squawkbox Support.
With engine CFM567b: 18/20/22/24/26/27.
Interactive Configuration Manager.
Many custom configuration options.
Detailed operation manual,tutorial and QRH included.
Aircraft performance calculated directly from flight model parameters.
New very smooth GDI+ based CRT displays.
With sound package.
More than 44500 SIDs/STARs included.
Ground support and push back.
Many additional free liveries via the Flight1 Library System.
Please Read Before Purchase
http://ifly.flight1.net/forums/forum_posts.asp?TID=12137&title=important-read-before-purchase
It is of utmost importance that you always have the latest version (registered or unregistered) of FSUIPC installed to avoid any issue!
The latest version can always be downloaded here:
http://www.schiratti.com/dowson.html
50% Off for Previous FSX Version Customers
If you have the FSX version, you can use a 50% off coupon below. Please unzip the coupon, and before purchase press the "Coupon" button in the main purchase screen.
Download Coupon for FSX Download Version Customers
Download Coupon for FSX DVD Version Customers
The link below uses the Flight1.com E-Commerce Wrapper. After you download, run the EXE (please use administrator access when running), and the purchase screen will appear.
IMPORTANT - This product is for home / academic use and is not licensed to be used for training, or any professional or commercial use. You can use this product as a basic familiarization aid that introduces you to the aircraft systems in a home / academic environment. If you wish to use this product in a commercial, flight school or academic training / classroom environment, please contact
Airliner1
for options.
iFly 737NG Download for Prepar3d v4.x (64-Bit)
FOR P3Dv4 ONLY: New HD Texture Pack
Please see
New HD Texture Pack Information for P3Dv4
Note: This version contains Hotfix 1.
Now available via the Purchase Agent (must install Purchase Agent first)


Click to Open in Agent!

*If you do not have the Purchase Agent, click here to download (<1MB). Read More...
You can also buy via our traditional software wrapper
(download and run for the purchase screen):

Click here to download version 3.2.3 for P3D v4.x (925MB)
iFly 737NG Download for Prepar3d v3.x

Click here to download version 3.2.2 for P3D v3.x (935MB)
Legacy Product Downloads for Prepar3D 1.4 and 2.0 (no longer supported)
For Prepar3D 2.0:

Click here to download version 3.2.1 for P3D v2.0 (920MB)
Note: For P3D version 2.xx users who need a service pack, please
visit the iFly forums
.
For Prepar3D 1.4:

Click Here to Download version 3.1 for P3D v1.4 (905MB)
Note: For P3D version 1.4 users who need to add service pack 3.2.1:
Click here to download service pack 3.2.1 for P3D 1.4
iFly Community Forums for support, updates, and a whole lot more!
Make sure you visit the iFly forum community for product support, repaint information, updates, cockpit builders forum, and a whole lot more. This community is very active with many other iFly pilots, real world pilots, cockpit builders, texture artists, and many others.
iFly Community Forums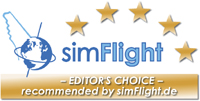 Lockheed Martin Prepar3D 3.x or 4.x
3.2 GHz Quad-Core Processor (4.0+ GHz recommended)
5 GB of disk space
8 GB RAM (16 or more recommended)
2 GB Video Card (4 GB or more recommended)
Win7 and above (64-bit)
FSUIPC (registered or unregistered)