Understanding the License System used by the Flight1.com Wrapper...
Certain products may use a license validation system when purchased using the Flight1.com Wrapper. This feature is targeted for download sales, and does not apply in the same way to CD sales. Included below are details of the system, with information on transfering a license to a non-Internet connected computer.
License Transfer Tool for Software Wrapper 3.03 and later...
Important: Flight1 does not offer support for the license transfer process to a non-internet connected computer, but if you follow each step exactly, it it should work for you. If you get errors, it usually means you missed a step in the process.
There are currently 2 different types of systems in place. The locations of the license files are the same, however, on version 3.03 and later versions of the Flight1.com Wrapper (as noted in the splash startup screen), you can transfer your license to a non-Internet connected machine.


Confirm 3.03 or later version...

You will see a screen like the one below that will allow you allow you to assign your license to a non-Internet computer. If you have a product that gives you the option of using a License Transfer File, please click the link below for the License Transfer Tool.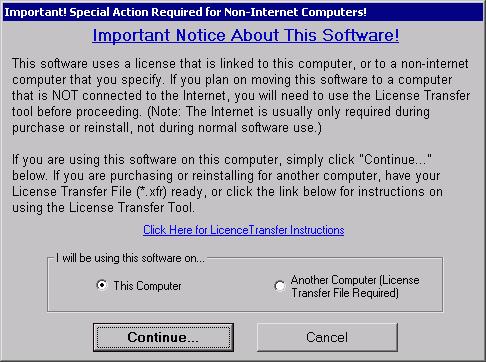 The License Transfer Screen...
Download the License Transfer Tool (only for version 3.03 and greater of the Flight1 Software Wrapper). Full instructions are included in the download.
How does the license system work?
If the application you are purchasing uses the special licensing system (many applications do not use it) you will see a screen similar to this one below shortly after you execute the your wrapped EXE. If you do not see a screen like this, then your software does not use the licensing system.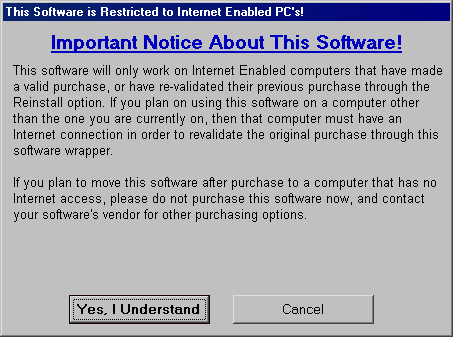 Important warning before every license enabled purchase.
Please be aware of what this screen means before you make the purchase. What that screen is saying is that the wrapper will create a license for the machine in which you are making the purchase on. This license will be a file with the .Lic extension, and this license will only work on the machine that made the purchase.
If you need to move the software to another machine, it is all very simple if the other machine is Internet-connected. You will simply need to create a fresh license on that machine by running the wrapped EXE you downloaded on that machine, and select the "Click Here to Reinstall" option as shown below...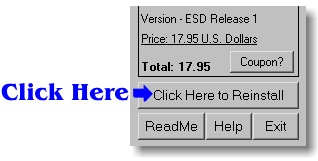 Click this button to reinstall and create a new license.
When you do this, you will browse to your original Key file, and the original sale will be validated, and finally a new license will be created as well as a fresh copy of the software, ready to install.
Again, License files will not work if moved to another machine! So if you are at work or at a friends house, and use their high-speed Internet service to download the software, burn to CD the wrapped application you downloaded, and make the purchase from the target-use machine.
Very Important!!!
If you do not have an Internet connection available on the machine you want to use the software on, and the splash screen of the product you are purchasing does not show version 3.0 or later, please contact Flight1.com or your software vendor for other purchasing options, such as CD. Also, it may be possible for you to use the software on your non-Internet connected machine, but make sure the vendor can provide you with special license files first.
If you are having any problems with your application not running correctly, here are the important safeguards you need to take.
There are 3 possible locations for your license (*.Lic) file. By default it will be in the main company folder on your main hard drive (C:\Flight One Software for example). A copy will also be placed in your main Windows folder. Finally, you may have copied the license file to another location allowed by the product. So it is very important that your application be able to locate the software...
1. It is a good idea to never delete the main vendor folder on the hard drive that contains Windows (C:\Flight One Software for example). If you delete this folder, the purchased application may not know where to find the license (in most cases there will be a copy of your license in the root Windows folder, but some older installs did not make this copy). Some peoples main drive number may not be "C:\". Anyway, it is never suggested that you delete the company folder without at least backing it up. It contains purchase information, your product key (used for the reinstalls), and other potentially important files.

2. You can't move the installed program files over to another machine unless you create a new license using the wrapped EXE as diagrammed above. A license will only work on the machine it is intended for.

3. If you reformat your system, or change certain hardware, the license may become invalid. Remember, all you have to do is simply use the reinstall option to create a new license on any Internet connected machine.

4. If you changed hardware or done certain system reconfigurations, and you have attempted to reinstall the software with the wrapper, and you are still getting invalid license messages, you may have an older license in a certain location on your system that needs to be removed. To do this, check in the C:\Company_Folder for the new license that was just created (it will have the .Lic extension). Then, search your entire system for any duplicate versions of this. Check the dates, and remove any old version of this license.
If you follow all the instructions above, you should have no problem using the software on your machines. It is not recommended that you purchase the software if one of the rules below are true...
1. If the software wrapper splash screen shows a version lower than 3.03, and you need to use the software on a non-Internet machine, and the designer of the program you are purchasing will not provide manually created licenses, then do not purchase the software now. Most vendors will help you with a license, but please check with them first.

2. You have multiple PC's that you want to install the software to, such as systems networked together, and each of these machines does not have Internet access. You may want to see if the software is available available on CD. Also, check with your vendor as some vendors may license for single machines only. Some vendors may not frown highly on multiple installs, as long as it is for non-commercial use on computers owned and operated by you. But do check with them if you are unclear on their policies.

3. If you use a multi-boot configuration and change boot parameters after your purchase. This will not work even on the CD ROM versions of some titles. You must boot, install, and run all on the same boot/partition/Windows configuration on your system.
In summary, you should have no problems using the licensing system should you adhere to the guidelines above.