Discover the Flight1 Agent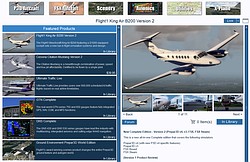 The Flight1 Agent consists of a variety of stores. While each have similar features such as the Products and Library tabs, every store has a unique presentation of products.
Each company or vendor has a customized storefront. This includes Flight One Software, QualityWings, Carenado, Aerosoft, and more. Use the "Change Store" button to view each company. Download your purchases via the "Library" page for each company. Use the multi-store seach to search the entire Agent catalog.
Download and manage all your purchases right from the library. You can easily apply discounts and upgrade specials, or purchase gift vouchers.
The Flight1 Agent is a very compact plaform that is only 3 files and less than 2MB in total size. It is only run when called and does not run as a background service.
---
Check Flight1 Specials and Discounts
Flight1 now has an automated Special Finder. Use this tool to lookup all current specials in the Agent.
Classic Products Still Available
Some classic titles sold in the Flight1 Wrapper are still available. Use the Search option in the top menu to search our classic products list. Note that there is limited support for the Flight1 wrapper.
Latest Flight1 Information

Use our Advanced Search feature to search through 100's of different products. You can now filter by product type as well as simulator type.
---
Flight1's T182T Skylane is now free! Please visit our free product page for the 182 Skylane and the SkyCatcher
---
Microsoft Flight Simulator (MSFS) products are now in the Agent. Select the Aerosoft store in the Flight1 Agent for many MSFS products.
---
If you are a developer or publisher looking to list products at Flight1.com, please contact us.
---