How to Reinstall my Product
Please read the following instructions to help you reinstall your product.
Important: Flight1 no longer supports reinstallation using product .key files. We only support reinstallation using a Flight1 Account. Although product keys still work and are distributed with our legacy Flight1 Wrapper, our support staff can only help you when you reinstall with an account.
To reinstall, you first need to locate your product download, then use the installation options.
Using the Flight1 Agent to find and reinstall your product:
Make sure you have the Flight1 Agent installed: Click here to get the Flight1 Agent.
Start the Agent and log in using your email address and password.
Select the "Start Browsing" button and the "Library" tab. If your product is listed select the download option on the right.
If your produc is not listed, select Settings in the menu, then use the "View All Flight1 Orders" button.
Highlight your product in the list and select "Jump to Product" on the right side.

If the button redirects you to product in the Agent, select the "In Library" button that is under the image gallery. You can then download and reinstall the product
If the button redirects you to our website with a link to an EXE file or another website, you will then need to download the product and reinstall using the presented EXE. If the product is in the Flight1 EZ-Agent, then highlight the product to download. See instructions below if your product is in the classic Flight1 Wrapper.

You can also select the Library tab in the Flight1 Agent (products vary by store), and you can easily redownload your product. See the folowing picture (reduced from actual size):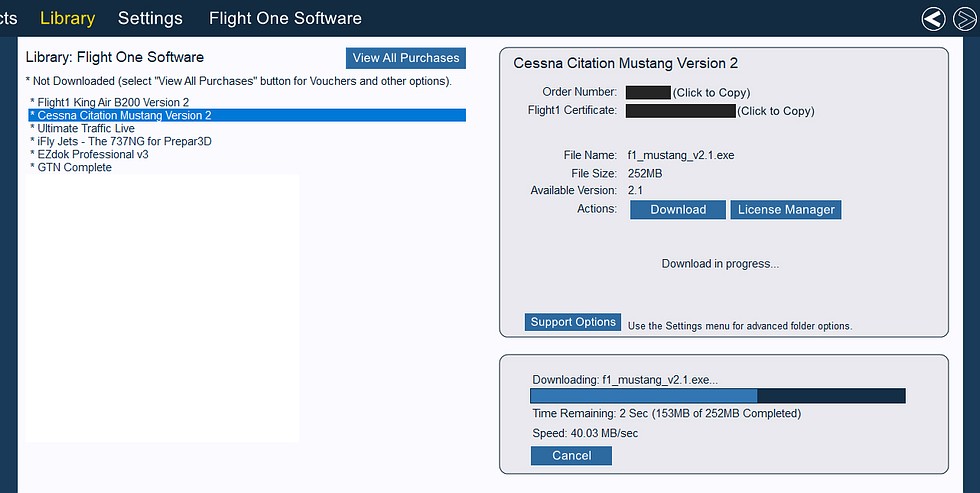 (Image reduced from original size - Flight1 Agent Library to manage downloads)
Using Flight1.com to find your product:
Log in to your account by clicking here.
Select the "View Flight1 Orders" button.
Find the product in the list and select the URL. Follow the instructions presented to download the product. Note: You may be directed to the Flight1 Agent or to the Flight1 EZ-Agent for reinstallation.
If using the Flight1 Wrapper to reinstall:
IMPORTANT: If your Flight1 account password has changed, you will need to press button 1 "Optional Flight1 Login" and update the information there. Make sure to select OK after updating.
When reinstalling, you will want to reinstall using the Account method. See the 2 images below. You use the "Click Here to Reinstall" button first.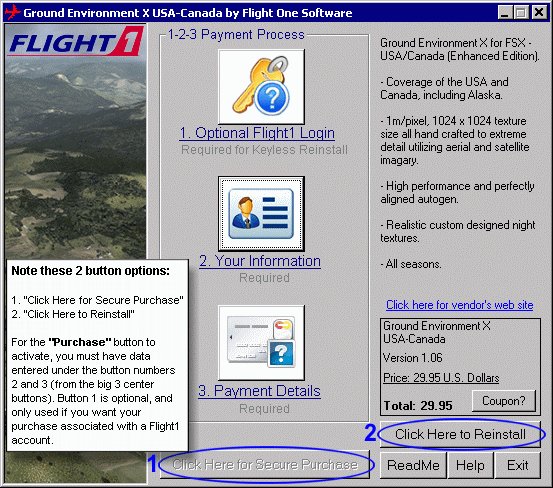 You then use the "Reinstall using your Flight1 Login and Password" option.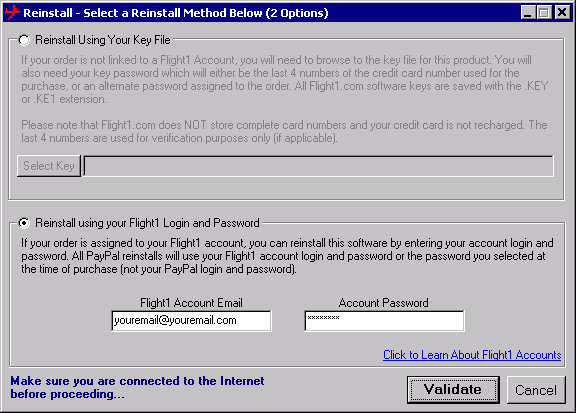 Enter your email and password in the boxes as shown above, then select the Validate button.
If you cannot locate your order in your accounts, you can submit a request to our accounts team below. Make sure you provide us any previous email addresses, order numbers, and street address you may have used.